Read Time:
7 Minute, 35 Second
Choosing the best toddler booster car seat among the types that are available is important. there are mainly two types of toddler booster car seats, one i.e. backless and the other that had high-back.

[TOC]
Backless booster car seats
Backless booster car seats are portable. They are easy to carry and can be attached to different vehicles. The backless car seats are kept in place by the weight of the children and with the help of the seat belt that is fastened over the child.
High-back booster car seats
Although the backless ones are portable, yet the safest toddler booster car seat is a high-back one. The high-back booster car seat may come with or without the headrest. They are usually recommended as they have the seat belt position better. Moreover, they also protect your child from whiplash, also providing side impact protection.
While choosing the best booster car seat following things should be kept in mind.
1. Your child
You need to keep the track of your child's age, weight, and height. All these factors will affect the kind of seat that you need. There are height and weight limitations when it comes to booster car seats. You will need to choose the best booster car seat that suits your child perfectly as the effectiveness of the safest car seat depending on the child's compatibility with the booster car seat. If you have medium to small cars, then you can check the best convertible car seats 2021 here.
2. Your car
It is important that you read the car features that they have provided regarding the car safety seats. Some cars may be equipped with the LATCH system, so it is important that you already figure out your car's compatibility. Also, whether your car has a headrest or not, or has low-seat backs also greatly affects the type of booster car seat that you will be buying.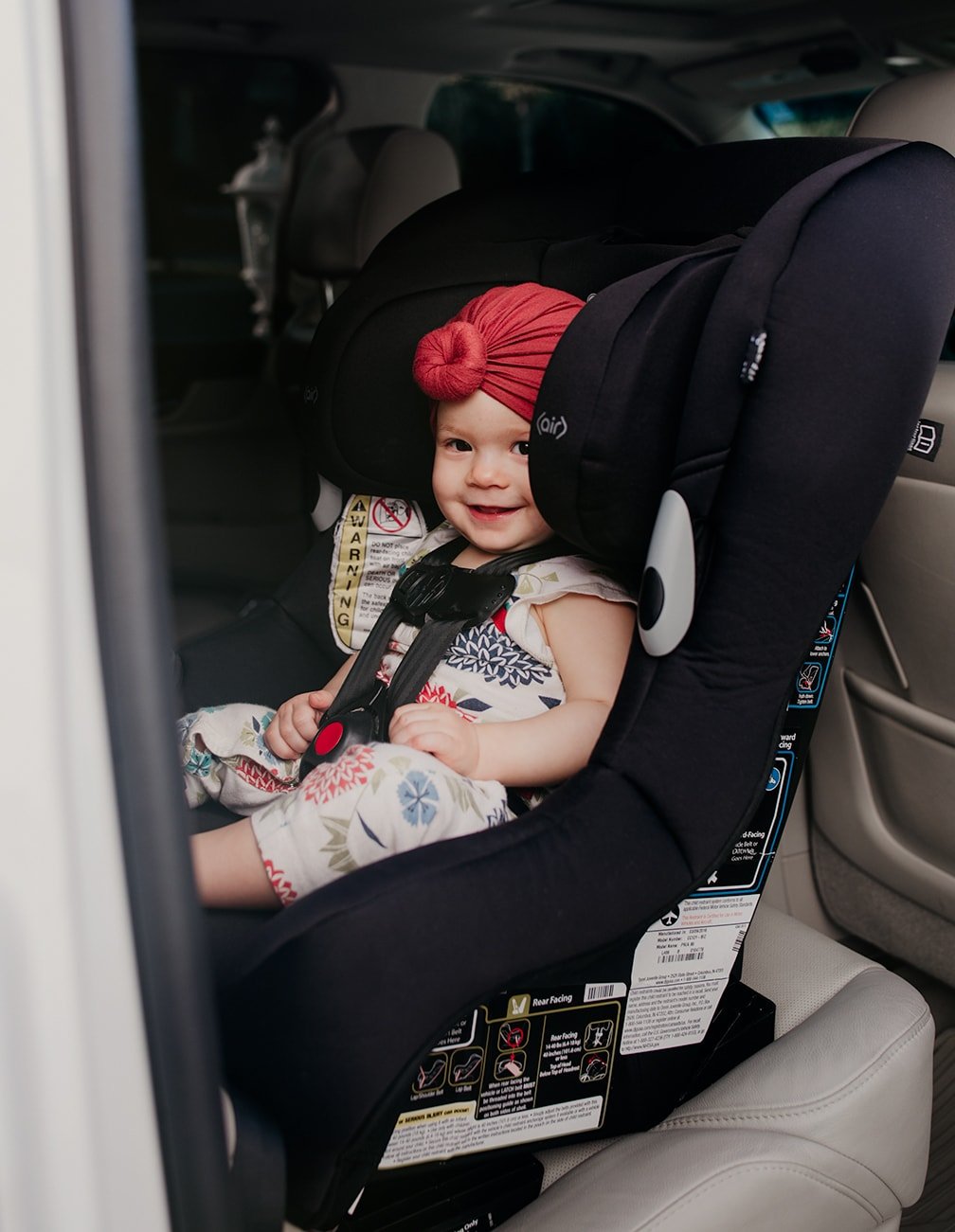 Features Of The Best Booster Car Seat
When buying the best booster car seat, keep in mind the following features:
High safety rating
The high safety rating of the best booster car seat will tell you its effectiveness. If the booster car seat has proven to be gone under a crash and has prevented injury or even has kept it to a minimum, then it might be the best booster car seat to buy. You can check the booster car seat high-safety ratings from the organizations that have conducted the independent crash test.
LATCH system
The vehicles that have latch connectors allow the booster car seat installation. From the year 2002, vehicle models have been compatible with booster car seats.
Adjustable headrest / harness / harness height
The best booster car seat to buy comes with an adjustable headrest, harness, and harness height. This kind of seat is also ideal for children who are not so big to use booster seats yet have outgrown the forward-facing car seats. These children might be too small for achieving proper belts with booster car seats, so they can use the harness instead. The adjustable restraints system will protect the child unless they are too big to use the seat belts as restraints.
Impact-absorbing foam
The booster seat has impact-absorbing foam that will make sure the safety of your child from any crash.
Side protection
The best booster car seat has side protection in case any impact comes from the sides of the car rather than front or back.
Removable seat cover
For maintaining the booster cars seat in a clean position, look for a booster car seat that has a removable seat cover.
Positioning clips
Booster car seats might come with belt-positioning clips that will guide the vehicle's seat belt. These clips will make sure that the belt fits your child in the right manner.
Easy to install
How to install a booster seat? If you change the vehicles too often, then it is recommended to choose an easy-to-install booster car seat. The more easiness in installing the car seat, the more there are chances of installing the booster car seat properly and correctly. This will not take a waste of your time. The best booster car seat which is easy to install will have the instructions of the manufacturers which are easy to understand. The seat also comes with codes and colored guidelines that will make the installation process easier. Some booster car seat also has indicators that will tell you if the seat has been installed correctly.
Comfort Level
You definitely want a comfortable ride for your little one. The best booster car seat is soft and has a comfortable mound, along with cushioned linings for soothing your child. Some of the car booster seats might be reclined which will help your child to relax even more.
Auxiliary
The added features such as cup holders and pockets in the booster car seat might be useful. They add to additional support for your child's basic needs, keeping him safe all the time.
How To Buy Booster Car Seat?
It depends on your child's readiness if you are deciding to buy a booster car seat. Different cars seat is manufactured for different age groups. This clarifies that the protection given by forward-facing car seats is for babies who are two years of age while it might not be safe for the infants for whom infant car seats are available. You can look for the best lightweight infant car seats 2021 here. Then Same is for the booster car seat, you will have to make sure that your child is ready for the booster car seat.
Before you buy the booster car seat, check that it fits your vehicle properly. Make your child sit on the booster car seat to check that he is comfortable within the seat.
Research is recommended. Read about all the different model of car booster seat that is available. You can see the high safety ratings. Reda the survey consumer reviews and see what models have been recommended more. Also, read the list of car seats that were recalled for not being safe.
Decide on a budget. It might cost you $25 for a back booster car seat while for a high-back and good quality booster car seat, it might cost $100 to $250.
Remember to keep the receipt safe if you have purchased the seat and also try to keep the track of the booster car seat serial number so that if you need to recall for units to be replaced because of any defect.
Britax Grow with You ClickTight Plus Harness-2-Booster Car Seat, Jet Safewash Fabric
5 new from $279.99
Free shipping
as of September 5, 2021 1:47 am
Features
Trusted quality, upgraded design: Looking for pinnacle? Grow with you ClickTight plus is our newest harness to booster car seat
Install confidently: With ClickTight, you know it's right in just 3 easy steps. Open, thread & buckle, close
2 in 1 booster seat: Easily transitions from forward facing harness mode to belt positioning booster mode as your child grows from toddler to big kid
Premium, soft touch fabrics: 4-way stretch athleisure fabric combines style and function for a modern look that's easy to clean
More comfort: Stay put, soft comfort pads keep your child's neck from rubbing against the harness strap
Chicco KidFit 2-in-1 Belt Positioning Booster Car Seat - Atmosphere
out of stock
as of September 5, 2021 1:47 am
Features
DuoZone combined head and shoulder protection with 10 positions for growing children
SuperCinch LATCH attachment and one-pull tightener helps keep KidFit in place and kid-ready for easy in/out
ErgoBoost double foam padding and contoured seat design provide support in all the right places. Single Recline Seat Adjustment
2 space-saving cup holders fold away when not in use and are removable for easy cleaning
Removable, machine-washable seat pad and armrest covers
GoFit Plus Backless Booster Car Seat - Iron
2 new from $49.99
Free shipping
as of September 5, 2021 1:47 am
Features
Quick-release LATCH system
Built-in carry handle
Contoured ErgoBoost seat with double-foam padding
Machine-washable fabrics and dishwasher-safe Cup holders
Smooth, non-marking underside
Britax Highpoint 2-Stage Belt-Positioning Booster Car Seat, Cool Flow Gray - Highback and Backless Seat
out of stock
as of September 5, 2021 1:47 am
Features
2-in-1: The highpoint belt-positioning high back booster car seat easily coverts to a backless booster to keep your child safer, longer
Cool ride: Cool flow ventilated mesh fabric and plush foam padding create a cool, comfortable ride for your big kid
Fit: 40 - 120 pounds and up to 63" height
Big kid comfort: Plush foam padding and built-in arm rests
Surrounded in safety: 3 layers of side impact protection include an energy-absorbing shell & foam-lined headrest
Evenflo Sonus Convertible Car Seat, Charcoal Sky
4 new from $77.49
Free shipping
as of September 5, 2021 1:47 am
Features
VERSATILE: The Sonus Convertible Car Seat helps protect rear facing infants from 5-40 pounds, and forward facing toddlers from 22-50 pounds, extending the life and use of this full-featured car seat. Rear facing height is 19-40 inches and forward facing height is 28-50 inches
TESTED & TRUSTED: In addition to meeting or exceeding all applicable federal safety standards, this car seat also passes Evenflo's comprehensive Side Impact and industry leading Rollover Test Standards
ALL-SEASON COMFORT: The Sonus features a revolutionary air flow ventilation system that provides a temperature-regulated, comfortable traveling experience regardless of the season or your climate. Rear facing fit tip- Top of head is at 1 inch below the top of the child restraint seat back
TRAVEL WITH FREEDOM: This restraint meets FAA Inversion requirements for airplane use allowing it to serve as a seat that can travel with you during family vacations or holidays around the world
OTHER VALUABLE FEATURES: Up-front adjustment for easy access to harness, 5 shoulder strap positions for proper fit, removable pads for easy machine washing, 2 cup holders, and head pillow for support
Diono Monterey XT Latch, 2-in-1 Belt Positioning Booster Seat with Expandable Height/Width, Black
3 new from $109.99
Free shipping
as of September 5, 2021 1:47 am
Features
THE ORIGINAL EXPANDABLE BOOSTER: Provides 69% increase in occupancy space as your child grows
2 SEATS IN 1: Easily converts into a backless booster seat, with a wide contoured seat base and two retractable cup holders
SUPERIOR SIDE IMPACT PROTECTION: Engineered with extra deep aluminum reinforced sides for enhanced side impact protection for head, shoulders and torso
11 POSITION HEADREST: One hand adjustment provides up to 6.5" in height to grow with your child
SUPER LIGHTWEIGHT: Weighing only 14.29 lbs. monterey XT is super light allowing you to move the seat between vehicles with ease
KidsEmbrace 2-in-1 Harness Booster Car Seat, Marvel Spider-Man , Black
2 new from $149.99
Free shipping
as of September 5, 2021 1:47 am
Features
5-POINT HARNESS SECURITY: Two position points at each shoulder, two position points at the child's hips, and one point where the harness buckles between the legs to give your child the best possible protection
3 HARNESS POSITIONS: There are three slots to position the harness shoulder straps depending on the age and height of your child. Shoulder straps should be at or just above the shoulders whenever using a forward-facing car seat
TWO MODE OPTIONS: This forward-facing five-point harness car seat is made for children weighing between 22 and 65 pounds and 29 to 49 inches in height. Converts to a belt-positioning booster seat for older children weighing between 40 and 100 pounds and 38 to 57 inches in height. We recommend using the 5-point harness to the maximum recommended weight and height before using this car seat as a belt-positioning booster
SAFETY CERTIFICATIONS: This seat exceeds Federal Motor Vehicle Safety Standards (FMVSS 213). Side Impact Tested only when used with a 5-point harness. Insurance Institute for Highway Safety "Best Bet" rating when used as a belt-positioning booster
ADDED COMFORT: Three-position adjustable height headrest is equipped with energy-absorbing EPS foam. Two cup holders provide added convenience to hold drinks or store treats
Graco TurboBooster LX Backless Booster, Anabele
2 new from $33.49
Free shipping
as of September 5, 2021 1:47 am
Features
Helps safely transport your big kid from 40-100 lbs. and up to 57 inches tall
One-hand front-adjust Latch system secures booster to vehicle seat
Secure connection keeps booster seat properly in place while seat is unoccupied
Be sure to check your local and state laws, as well as AAP and NHTSA recommendations, for car seat usage
Keeps booster steady for easy self-buckling for your independent child. Metal and plastic parts may be cleaned with mild soap and cool water
Diono Cambria 2 Latch, 2-in-1 Belt Positioning Booster Seat, High-Back to Backless Booster XL Space and Room to Grow, 8 Years 1 Booster Seat, Black
2 new from $79.99
Free shipping
as of September 5, 2021 1:47 am
Features
New upgrades: keep your child secure and comfortable in the high back or backless booster with upgraded fabrics and easy remove covers - Machine wash and dry
Xl booster with room to grow: keep your child safe and comfortable with the high back booster seat mode now up to 120 lb/ 54 kg. Wide booster with ergonomically contoured seat prevents slipping and has Extra length for better leg support
Lightweight & PORTABLE: This lightweight design makes this high back booster in any mode easy to transfer between vehicles
2 Seats in 1: easily converts into a backless booster seat, with a wide contoured seat base and two retractable cup holders
6 headrest positions: easy one hand adjustment provides up to 6.5" In height to grow with your child. Ultimate safety and protection for your child comfort
Graco Backless Turbobooster, Tansy
out of stock
as of September 5, 2021 1:47 am
Features
Helps safely transport your big kid from 40-100 lbs.
Rigorously crash tested to meet or exceed U.S. safety standards
Designed with the style and comfort features that kids love. Material - polyester, plastic
Padded, height-adjustable armrests and hide-away cup holders keep kids smiling
Graco ProtectPlus Engineered: a combination of the most rigorous crash tests that helps protect your child in frontal, side, rear & rollover crashes; additional testing based on the New Car Assessment Program and for extreme car interior temperatures
Do not buy second-hand units that have an unknown or unreliable history. The booster car seat has been tested and rated for one-time collisions. It is possible that the second-hand unit that you are planning to buy has already been into some collision. The car seats that have been into a crash whether a child was seated in it or not, should be avoided always.
Boosters car seats have weight limits so read the specified weight limits in the manual of the manufacturer and follow the guidelines provided. Usually, when the weight of the car seat and the child exceeds 65 lbs, it is suggested to fasten the car seat belt for holding the seat in place.
In case of the backless booster seat, your car must have headrests that are above your child's ears.
You will first have to figure out whether your child is ready for the booster car seat or not. Here are the ways to tell: the weight and height of your child have exceeded the forward-facing car seat, the shoulder harness slots are already below the shoulders of your child, the head of your child has reached the top of his forward-facing car seat.
To check whether your child is the right fit for a booster seat, you will have to make your child sit on the seat. If he is comfortably seated all the way against the backseat, the knees of your child shout be bent at the seat edge and the legs should not be sticking straight out.
Once your child is fastened, check the correct belt position. The seat belt of the booster car seat should go across the thighs and not on the abdomen. The belt on the shoulder should land cross the centre of the chest, not on the neck and should be between the collarbone and sternum.
The best position for the booster car seat in the middle rear seat since it will protect your child from impacts that come from the sides.
View more Best Booster Car Seats
on Amazon.com, the best choice for you.
Disclaimer: There are affiliate links in this post. At no cost to you, I get commissions for purchases made through links in this post.